Top posting users this month
February 2019
| Mon | Tue | Wed | Thu | Fri | Sat | Sun |
| --- | --- | --- | --- | --- | --- | --- |
| | | | | 1 | 2 | 3 |
| 4 | 5 | 6 | 7 | 8 | 9 | 10 |
| 11 | 12 | 13 | 14 | 15 | 16 | 17 |
| 18 | 19 | 20 | 21 | 22 | 23 | 24 |
| 25 | 26 | 27 | 28 | | | |
Calendar

Most active topic starters

Hey.

Anyone else having the Back to School Blues? xD I sure am. I started yesterday, and things aren't really going...as I planned.

First of all, my awesome friend is switching to a different type of school program. (with my school, it's weird, and you can choose different 'programs' so that you actually GO to the school certain days of the week, and then are home the rest of the week.) Well, it sucks badly enough that he's leaving, because I'll miss him and he was the greatest friend like, ever. But to add to it all, he'll be ditching me with the bunch of losers in our class, and I'll be alone with this freak kid in my third class so...it'll make for a lot of awkward moments. :l

Second, I have a math final coming up next week, and I have to miss my one day I go to school for it. (well, most of the day anyway.) The final is horrible, as I've forgotten pretty much everything over the break (perfect time for a final, huh genius??) so I have to study like crazy. But what's worse is that next week could be my last day with my friend so...yeah. Bummer. :c

That^ and I just don't wanna start school again. xD

How about you guys?
~Jess

_________________
If every pork chop was perfect, we wouldn't have hotdogs.
Admin





Posts

: 1925


Reputation

: 8


Join date

: 2012-05-19


Age

: 171


Location

: USA



Aw, sorry to hear about all that. I'm sure you'll make new friends though, you seem like a nice person. Just find people who seem to be interested in what you like--maybe you'll see someone reading a book you enjoy, or listening to your favorite song or something c;

My school started back up yesterday, too, and it wasn't all that bad. I got to see a lot of my friends and my bf, so I didn't mind that too much. Most of my teachers didn't make us do too much work--and I already had my finals/midterms a few weeks ago, I believee. The only negative, really, is that all my friends got me christmas gifts, and I didn't get some for a few :c My bf got me a teddy bear and a necklace, my friends mostly got me Itunes gift cards and lotion--but blahblah, details, details, diddly doo. Its a little strange being back at school for 8 hours though, after sleeping till noon for 2 weeks.

I hope school gets better for you c:
I guess you're doing okay..





Posts

: 71


Reputation

: 0


Join date

: 2012-10-21


Age

: 21



I have no problems with school.

My teachers are great.

My friends are great.

Life at school is great.

I'm going to hate going into High School, because we'll all be separated, and I wish they could just keep us all in the same classes, except the extra classes, like cooking or wood shop and stuff. Have same English Science History and English classes.

I don't want to make new friends when I go into High School. I like the friends I have now.

This is the only schools blues i ever feel. lol
_________________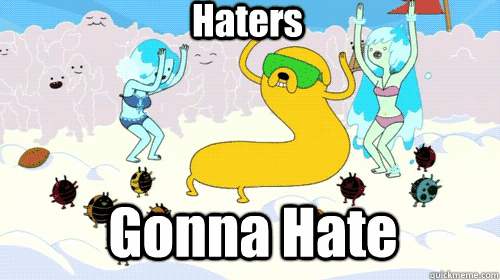 Challenge Accepted





Posts

: 226


Reputation

: 0


Join date

: 2012-06-13


Age

: 20


Location

: Behind you as you read this. O.o



Thanks for the reply guys.
SHADOW I'M DREADING HIGH SCHOOL TOO D:
For the same reasons :'c
And Danielle, thanks for the advice! I would try that but...my school is really, really, really small. So...um...the most kids I have in my class is like...four. xD And all my classmates are boys who I really don't want anything to do with.
Your boyfriend sounds really sweet by the way.

I'm glad school is going good for you.

_________________
If every pork chop was perfect, we wouldn't have hotdogs.
Admin





Posts

: 1925


Reputation

: 8


Join date

: 2012-05-19


Age

: 171


Location

: USA




---
Permissions in this forum:
You
cannot
reply to topics in this forum