Top posting users this month
June 2019
| Mon | Tue | Wed | Thu | Fri | Sat | Sun |
| --- | --- | --- | --- | --- | --- | --- |
| | | | | | 1 | 2 |
| 3 | 4 | 5 | 6 | 7 | 8 | 9 |
| 10 | 11 | 12 | 13 | 14 | 15 | 16 |
| 17 | 18 | 19 | 20 | 21 | 22 | 23 |
| 24 | 25 | 26 | 27 | 28 | 29 | 30 |
Calendar

Most active topic starters

Okay, I know this isn't really important news, but it's important to me and, I'm sure, the parents of this little boy.
Look at this! :
http://shine.yahoo.com/parenting/second-grader-in-wheelchair-set-apart-from-classmates-in-school-photo-153816157.html
Can you believe that? How unfair can these people be?! I have an uncle who was put in a wheelchair (due to the idiotic surgeons dropping him after his surgery) not too long ago and I just can't even imagine if he was a kid again and he was that little boy.
Speaking of that, why is everyone so mean to people who are different from them?? My uncle has dyslexia, and all the kids at his school bullied him. He literally had no friends. They'd even hit him and kick him. He was one of the most accident-prone, unlucky kids out there. If something bad could happen to him, it would. Why? I'm sure if he just had one friend, he wouldn't be that way. Or maybe he would, but he wouldn't be so sensitive.
I just hate society, people, anyone who can't tolerate someone different. Those people are the difference between making someone who's different feel either weird or unique.
Jerks.

_________________
If every pork chop was perfect, we wouldn't have hotdogs.
Admin





Posts

: 1925


Reputation

: 8


Join date

: 2012-05-19


Age

: 171


Location

: USA



People are just afraid what the body politic(society) deems as normal, and when people venture out of that and become who they are, they are scared of it because it doesn't follow the body politic's cookie-cutter plate for the people. 
Since the common opinion of America has been dictated by men for so long, Americans dislike gay men(but not lesbians, shocker

) women in general, hispanics, blacks, people of different religion, those who are essentric, those who are well educated and know the truth, regardless if it's against America or not, etc.
It's just how our society is. Anyone who is different is pushed away, but that's been slowly turning around to be accepting of people.
_________________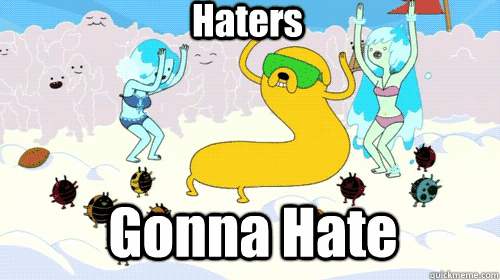 Challenge Accepted





Posts

: 226


Reputation

: 0


Join date

: 2012-06-13


Age

: 20


Location

: Behind you as you read this. O.o



Thats pretty screwed up. 
I feel horrible for the poor kid, he just wants to be included. And this wasn't even really the other kids, it was the teacher

Some people just are feel pressured to do cruel things because of what they've experienced and told.
Yeah yeah 75 posts big deal...




Posts

: 112


Reputation

: 0


Join date

: 2012-05-27



The teacher could've at least stood next to him and it would've been fine.
Obviously, the photographer was inexperienced as well, because anyone can clearly see that the picture is unbalanced. So sad...the kid should've just been put in front of the group, the other kids could stand, there were so many other solutions.

_________________
If every pork chop was perfect, we wouldn't have hotdogs.
Admin





Posts

: 1925


Reputation

: 8


Join date

: 2012-05-19


Age

: 171


Location

: USA




---
Permissions in this forum:
You
cannot
reply to topics in this forum