Top posting users this month
June 2019
| Mon | Tue | Wed | Thu | Fri | Sat | Sun |
| --- | --- | --- | --- | --- | --- | --- |
| | | | | | 1 | 2 |
| 3 | 4 | 5 | 6 | 7 | 8 | 9 |
| 10 | 11 | 12 | 13 | 14 | 15 | 16 |
| 17 | 18 | 19 | 20 | 21 | 22 | 23 |
| 24 | 25 | 26 | 27 | 28 | 29 | 30 |
Calendar

Most active topic starters

Okay, I know it's probably annoying that I always post these random articles. But seriously, read this:
http://ca.news.yahoo.com/blogs/dailybrew/ontario-police-aware-hateful-letter-telling-family-euthanize-171036930.html
At first, I was horrified that someone would take out all their annoyance, anger, and hatred like that. I mean, it is probably the nastiest note I've ever seen. Even worse that it's directed towards a loving grandmother with an autistic child on her hands. I've always felt really...I don't know. Pitiful? Caring? I'm not sure what the right word is, but I'm always careful to be extremely nice to the mentally impaired. I mean, I think it's really sad that they have to live like that their whole life...and how they'll have to live with getting laughed at, made fun of, and nasty looks or (in this case) letters. I think it's even worse that some of them actually know that people are laughing at them and that they're different and weird in an absurd way.
Of course, I don't have even half the patience to care for one myself, but I do wish that people would at least
try
and accept them. They're different? In all fairness, none of us are really normal. We all have different races, different religions, different personalities, different looks, and different IQs. Different backgrounds, different families, different friends, different interests, and much, much more differences. (Wow the word different looks weird, now that I've typed it about a hundred times.) You can't just say that they are different, and that gives you the right to treat them differently.
However
...no matter how hateful the note is, this mean, crabby, anonymous person does have a point. I'm sure the wailing scares her children, and other children. When I was younger, I always felt a bit scared around mentally impaired people. Still do, if they're adults. I mean, you never know what they're going to do. I'm always nervous they'll grab me or hit me or scream at me. I know that's highly unlikely, but hey. We're all different.
Also? The way she words it, it seems like the kid just goes out on his own every day. Like somebody commented, special need people need special care.
So who's side would you take? The angry, heartless letter writer? Or the grandmother and the autistic? Why?

_________________
If every pork chop was perfect, we wouldn't have hotdogs.
Admin





Posts

: 1925


Reputation

: 8


Join date

: 2012-05-19


Age

: 171


Location

: USA



I shalt taketh johnnees side, becuz that is who I tis beeth.
_________________
Like.A.Boss and 8,943,000 others like this.
Hater's gonna hate.
have fun lovelys
Admin





Posts

: 149


Reputation

: 4


Join date

: 2012-05-20


Age

: 21


Location

: under your bed



I'd take the grandmother and the autistic kid.

Why?

Because of this wild belief(and bear with me) called equality. I know, barely anyone believes in dat crap.

The autistic kid didn't decide to be autistic, he couldn't do anything about it, let him live his life. He has a right to live just as much as the "pissed off mother" does. And, the autistic kid is NOT useless, he's just useless to the "pissed off mother's" standards, which are stupid and dumb and she needs to grow up.

The grandmother and the autistic kid should live there, and live where ever they want to. The mother has no right to tell the grandmother what to do with the kid. She's a brat.
_________________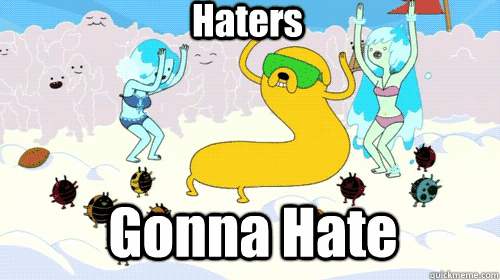 Challenge Accepted





Posts

: 226


Reputation

: 0


Join date

: 2012-06-13


Age

: 20


Location

: Behind you as you read this. O.o




---
Permissions in this forum:
You
cannot
reply to topics in this forum