Top posting users this month
November 2019
| Mon | Tue | Wed | Thu | Fri | Sat | Sun |
| --- | --- | --- | --- | --- | --- | --- |
| | | | | 1 | 2 | 3 |
| 4 | 5 | 6 | 7 | 8 | 9 | 10 |
| 11 | 12 | 13 | 14 | 15 | 16 | 17 |
| 18 | 19 | 20 | 21 | 22 | 23 | 24 |
| 25 | 26 | 27 | 28 | 29 | 30 | |
Calendar

Most active topic starters

So, some of you may know that this is my first year in 'real' public school, after being homeschooled for my whole life. I'm doing really good. By that I mean, at least I'm not crying on the bathroom floor because I'm getting bullied, like I thought would happen.

Anyway, so I need the computer a lot to do my homework. Unfortunately, so do my brothers. So every time I go to do my homework, I'm greeted by someone already sitting there who is DEFINETLY not willing to give it up.
So I decided it was time for me to get a laptop. I dedicated almost all of my free time to searching online for a nice, but used, working, but cheap, laptop. I found some great ones for me...basically perfect. Some even came with a webcam!

When I found the one i wanted to buy, I asked my parents to check it out. Know what they said to all my hard work? My soon to be complete waste of extra time? My plans and chart I had constructed just to see how this would affect my budget? They said, "Well...we definetly need another computer. I'm just not sure the time is right for...you to get a laptop.

All that went through my mind was, "A-...are you serious?!" I mean, when's the time gonna be right? When I'm eighteen and can move out?? As sad as that sounds, probably. I mean, they obviously don't trust me at all. Why? I have absolutely no idea.

I tried googling ways to prove you're responsible/mature/trustworthy to your parents. All that came up were things that I already do. Do any extra credit at school, do chores, try not to fight with siblings, give 100% effort on my homework, get good grades, don't get into the bad group at school. I'm not pregnant, I'm not on drugs, and I've never tried alcohol in my entire life. What more does one have to do in order to gain trust??

If tu guys have any advice, please share. I'm desperate. .-. Oh yeah, and talking to them about it won't do a thing, so don't even bother.

_________________
If every pork chop was perfect, we wouldn't have hotdogs.
Try being good for a while. So that when they see it's a habit not just being a kissup they may consider it.

Nothing ಠ_ಠ

Challenge Considered





Posts

: 173


Reputation

: 5


Join date

: 2013-08-03


Age

: 20


Location

: Daaa moooon



well, you claim you already do all the things i'd suggest doing (help make dinner and set the table, help siblings with homework, be a genuinely nice child)... so really, you can't do anything.

sometimes you just have to accept the fact that they're your parents and they make the overall rules.

if you keep bugging them about it, they'll be likely to just start screaming and won't even consider it. if you just keep doing what you're doing and occasionally bring it up (near holidays like christmas, your birthday, etc), then they might consider it.

don't complain if they say no, either. that just shows them you're immature if you keep saying "whyyy notttt????" "but moooooom" "daaaaaad".

i'm hoping for a new laptop for christmas, too, so i'm basically just trying not to complain and do what i'm told. i bring it up about once a week.. i'm hoping my mom may surprise me and get me one for christmas, maybe your parents will do the same.
The term mature is a fun word those who are older love to impose on the young to a show a sense of false psychological domination that really means nothing. To show you're mature, you'd literally have to suck up to those who are older and in my book, that just isn't right and it doesn't work. Responsibility is a valid thing, but maturity? It's just a term to make older people feel better than the younger generation, because they know they will be smarter than the older generation and they know they will carry the human race into the future, and the mere thought of someone of younger age being better than them outrages them, so they create this social wreck of a term, maturity, to feel better about themselves before the younger generation reaches that point of surpassing the old.
_________________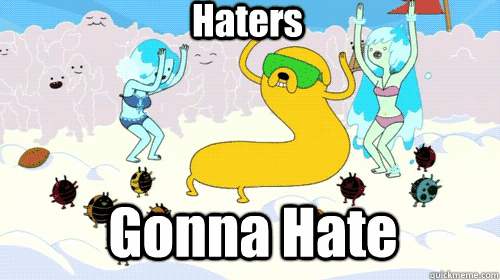 ShadowStar

Challenge Accepted





Posts

: 226


Reputation

: 0


Join date

: 2012-06-13


Age

: 21


Location

: Behind you as you read this. O.o




---
Permissions in this forum:
You
cannot
reply to topics in this forum