Top posting users this month
February 2019
| Mon | Tue | Wed | Thu | Fri | Sat | Sun |
| --- | --- | --- | --- | --- | --- | --- |
| | | | | 1 | 2 | 3 |
| 4 | 5 | 6 | 7 | 8 | 9 | 10 |
| 11 | 12 | 13 | 14 | 15 | 16 | 17 |
| 18 | 19 | 20 | 21 | 22 | 23 | 24 |
| 25 | 26 | 27 | 28 | | | |
Calendar

Most active topic starters

yes hello so
um
this is gonna sound weird

but i want to volunteer to like.. 're-design' the website???
aha i know that sounds weird, but, idk. i just have a lot of ideas for the site that i really can't explain.

i know it'd be hard to just say 'ya sure here you can be an admin now go cray and edit the site'.. but yeah. i've designed a few websites for my friends and they all ended up liking it.

i'd of course ask before making huge changes like deleting sections or anything big like that. i probably wouldn't do anything too major;; just mess around with the color scheme and background {no girly backgrounds for the sake of any guys that go on here. coughsshadowcoughs }

but ya, its okay if anyone doesn't want taylor to mess with the site. thats fine.
and if you want me to, i could just edit justfriends. im not sure if we're all going on justfriends still or if we're sticking to j4t, or if we're going to make a new website so we can advertise more without getting in trouble idk

yes this was very awkward youre welcome i hope you all feel awkward reading this xoxo
speaking of redesigning the site,
could we like
do something about the little pixel things at the top of the site
the pixel people things
they make the site seem unorganized
I guess you're doing okay..





Posts

: 49


Reputation

: 0


Join date

: 2013-04-26



well theyre sort of our mascots or something idk??? two members joined a while ago and they really liked them, so then we all started using them and now we put them on the banners and stuff.. if i made a banner i'd probably include some but it'd be neat and pretty sobs but im not trusted here
Why not expand to social networks like Google Plus? We can make a community page there. I'll get people to follow.
Google plus is really epic. Like, I spent 4 hours posting stuff and interacting with friends. I got 21 followers in one night.

If you have a gmail account, you can make a google plus without even registering.
IT'S SUPER COOL TRUST ME
_________________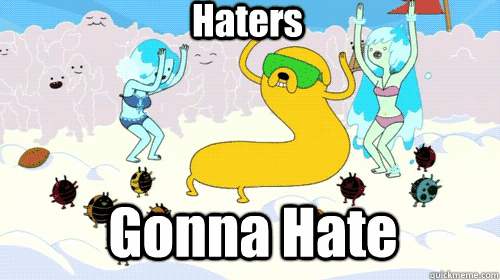 Challenge Accepted





Posts

: 226


Reputation

: 0


Join date

: 2012-06-13


Age

: 20


Location

: Behind you as you read this. O.o




---
Permissions in this forum:
You
cannot
reply to topics in this forum